DMIx and verce bring virtual models to a new and hyperrealistic reality in an end-to-end ecosystem.
The future of marketing and sales is here.
DMIx's innovative workflow and scalability, perfect for your phygital product development in fashion and lifestyle.
Material elevated. DMIx's hyperrealistic materials bring your digital workflow to a new quality.
From photorealistic texturing to realistic finishes, our 3D material technology sets a new standard in realism.
Take your brand to new heights with DMIx's hyperrealistic material workflows.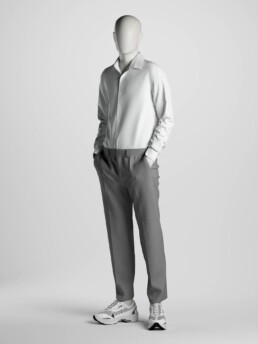 Unlock the full potential of your 3D design workflow with DMIx's real-time base avatars
Optimized in pose and size, our base avatars provide a seamless experience for 3D artists in various software solutions.
Create garments with full freedom on the base avatar, then let DMIx Studio's render process automatically replace it with the virtual model.
Never before has the fashion industry seen such a compact and efficient workflow solution, producing e-com ready output.
DMIx 3D-Studio: Be the photographer of your styles and products. Full realistic studio environment with cameras and light setups, based on HDRI environments. Define your vision and send the final image to the render pipeline.
Poses & Models
Get the perfect pose for your garment every time with the DMIx StudioAvatars model library. With various ready-to-choose poses, it's easy to optimize your garments and exchange models with ease for a flawless final image.
Light up your scene
Proper lighting is essential in photography, it impacts the final look and feel of the image. DMIx 3D-Studio's lighting presets allow you to control the mood, atmosphere and aesthetic of the render, making your product even more believable to the viewer. Choose from 11 professional, lighting setups or let us create your own specific setup.
The perfect surface
DMIx utilizes 11 different texture maps to capture the subtlest details and nuances of your materials. With DMIx, you can achieve a level of realism that is unattainable with real-time rendering software. Whether you're creating images for e-commerce, marketing, or product development, DMIx's advanced texture mapping capabilities will help you to stand out from competition.
It's all about details
Accessorize your virtual wardrobe with DMIx's growing library of shoes, glasses, bags, and more. Elevate your garment and model presentations to new heights.
Do you like what you see?
Let´s talk about your project:
"*" indicates required fields